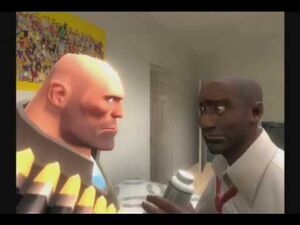 Moments with Heavy is a Video Series made by kitty0706
It shows normal day events oftenly made fun of in various ways.
The town that Heavy lives in is a subarbs that leads to the big city.  Most of the Blu Team lives here doing normal ever day things when the Red Team are commiting gangs, crime, and stupid things that get them in trouble with the police.  There are alot of serveses that Heavy has used such as Amazon, Fortress Stores, and even newspapers, and products.  The serveses are often helpful ,but rude acting towards the buyers often using the words fag or faggot.  
List of Episodes
Edit
Heavy takes his driving test
Heavy goes Bowling
Heavy's Retarded Holiday
Heavy orders an Xbox 360
The Quest for the Ultimate Sandvich
Heavy has his Christmas feast
French toast
Plots:
Heavy passes his driving test and the RED Team wants to do better.
Heavy goes bowing and fights the RED Heavy.
Heavy orders a 360 that comes in the 83rd century and has trouble opening the package.
Heavy buys a box a sandviches and one of then has a super power that the RED Team wants.
Blu Scout tells Heavy what to buy for the Christmas feast and Heavy goes to buy it.
This one has a thing that was in the first one when Heavy drives to the shop.
Heavy stars in a cooking show on how to make French toast.